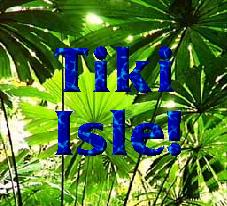 New Place
We have moved!!! This is our new location. As you can see, we now use the username juppieking, we have a new and better name and few members then before. That doesn't matter, because we have to stay a fun lil community and a nice place to be! Tiki Isle is even going to be better than our last guild, because we can start over again and improve everything! We hope you like the idea of having a new guild, and ofcourse join fast!

The Tiki Team
???
Maybe it's a bit confusing who to send neomails, quest items, contest answers and questions, but in fact it doesn't matter that much. Where to send your neomails and items to is always mentioned on the specific page itself. Just read well and you'll always know what to do!

Tiki Mascot
We finally decided who our Tiki Mascot should be. Our first idea was to take a Kougra, paint it Silver, call it "TikiTurion" or so and that would be it. But we thought it was better to make BigleBoo, the dearest pet of the Island Mystic nickyrikkietikkie, our Guild Mascot. We don't have to switch accounts now and don't buy an expencive Silver Paint Brush: BigleBoo is allready painted Glowing. It's also easyer to participate into the Beauty Contest and in the Site Spotlight.



Check out our new banners!!!
Tiki Tombola
Every time we win a Tiki Trophy (something where the whole guild or Island Mystic (nickyrikkietikkie) has worked for) we hold a Tiki Tombola! That is like a Great Giveaway: a day were the Tiki Team (the Council) gives everybody free items. But we expect to get items from the Guild Members also!

Be kind for each other and help everyone!

Catalog
We have added a cool Catalog to this site, where people can get all sorts of services like banners, HTML, moving images and more! This is to higher our Tiki Funds a bit!

Mystery Picture
A new Mystery Picture Contest is UP! Click here to participate!

Counterz
Yeah, our counters are finaly working!!! Check 'em out by clicking the links "Cool Counters 1" and "Cool Counters 2"! They really hit the road!

Let's get some trophies!
Who doesn't wants a bunch of cool trophies to fill your Trophy Cabinet? Let's go and win some Tiki Trophies! Here are our ideas:

1. Beauty Contest
The image on the right is the image we're going to use for the Beauty Contest. If we win, we hold a Tiki Tombola!

2. Site Spotlight
Nicky worked very hard on BigleBoo's page, so if we win the Site Spotlight she expects that we give her a big present: all of us, Tiki Members, together. Contact the Council to tell them your ideas.
BigleBoo's Page
Adoptables
The adoptables are back! You can visit all of them via the page "Tiki Adoptables" or by clicking here. If we have adoptables created by other guilds, a gigantic banner is shown also on the page. Nobody can complain in this way.

Enjoy all our adoptables and home-made backgrounds! (I, nickyrikkietikkie/juppieking, worked very hard on them!)

Note: We are also planning to put 3D-images in the adoptables section, but we first need to know which 3D-images you like. Neomail nickyrikkietikkie with ideas, or leave your comments in the Guest Book.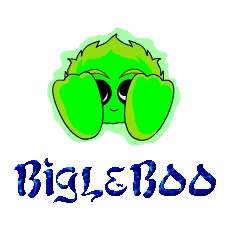 BigleBoo
This is the image that will be used for the Beauty Contest. Please vote everyone, and tell others to vote! We might just win a Tiki Trophy ones (we'll let our Tiki Mascot participate as much as we can!), and if that happends we hold a Tiki Tombola! If you've made a cool pic from BigleBoo for the Beauty Contest, you'll be well rewarded!
Now vote!
Vote for BigleBoo!